IDEALOVE
You're getting married and you're looking for original and custom wedding rings…
IDEASIGN creates your made to measure wedding rings under the name IDEALOVE.
Thanks to a high precision laser technology, these titanium wedding rings with a lifetime warranty are designed with either the bride and groom's first names on them or the marriage date or whatever you imagine…
With this advanced technology, you can have 4 wedding rings for less than twice the price! Good solution for absent-minded couples!
2 wedding rings (1 bride + 1 groom): 1190€ VAT-inclusive
4 wedding rings (2 brides + 2 grooms): 1590€ VAT-inclusive
Production deadline: 5 weeks
Contact us for further information!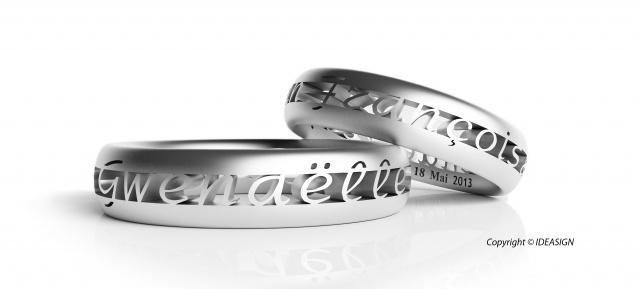 Partners
Follow us
Wallpaper